How To Network With Recruiters On LinkedIn
On average, I receive anywhere from 10-50 LinkedIn connection requests a week. While many are just "want to connect" messages, a WHOLE LOT are asking for my help or advice on how to get a job with my company.
I can probably provide
actual, specific value
to approximately 3% of those people.
This post is for the rest of you.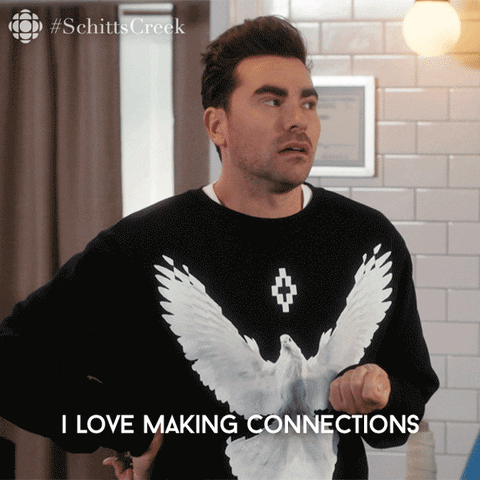 So you want to work for a company. Awesome! Totally makes sense to connect with recruiters, because we are after all the mythical gatekeepers to all the jobs. Networking with recruiters at your target companies is a GREAT idea - as long as you're hitting up the right ones. I work exclusively with Engineering Managers for a giant organization. I know a fair bit about how we hire EMs, especially for my client team. The rest of the company, not so much.
1. FIND THE RIGHT RECRUITER
If the goal is to connect someone who can help you get hired, then you need to look for recruiters who actually hire whatever it is you do. Recruiters are generally pretty good at sprucing up their profiles and dropping the right keywords. I did a quick search for finance recruiters at my company and had several viable hits in the first page. The key here is finding recruiting contacts that are probably responsible for filling the roles you're interested in.
2. BE SPECIFIC IN YOUR REQUESTS
I get a lot of "just want to connect" requests which is TOTALLY fine - I'm a fairly open networker, so odds are I'll accept. Hopefully you find value in content I share or maybe it leads you to another connection that can help you get wherever you're trying to go. If you're looking for a specific "in" or have questions let us know! It feels really good to help - I love it when someone reports back that they got their dream job or made a great connection because of something I said or did. Also, if I work here, it's because I WANT TO. So I want you to want to, too. But I NEED you to be really clear with what you need from me and how I can help. A lot of you might be reading this because frankly, it's the best response I can give you.
3. THINK BEYOND RECRUITING
Yeah, I know, we're the mythical gatekeepers holding all the keys to the kingdom and bestowing offers on those we deem worthy. Hah. Sure we are.... can you imagine? No, actually we are more like connectors and collaborators, trying to bring two people (or more) together for the purpose of one great hire. It's hard, but very, VERY important work. I would never suggest going AROUND a recruiter, but maybe just maybe... there's another way? Who better to ask about what it's like to work as a Software Engineer for Really Cool Company than a fellow Software Engineer already doing it? Even better, what about the Software Engineering Manager you could maybe work for someday??
Here's what I know for sure - hiring managers ultimately feel the MOST pain of an open role. I have anywhere from 15-25 roles I'm recruiting for any given day. My primary focus is talking to people who can do one of those jobs. Nearly as important is making connections / talking to people who are qualified / potentially interested in doing similar jobs in the future. A hiring manager for a specific role is feeling an immediate pain on their team. Many of them even go so far as to post "We're Hiring" in their LinkedIn headline! Find managers at companies you want to work for referencing things you want to work on. Be clear in your intentions, and specific in your requests. Help us help you!
I do not know any recruiter who intentionally withholds information or refuses to respond to candidates just to be a jerk. I promise - if you ever feel "neglected" or think that a recruiter is treating you poorly by not replying, there's probably more to the story! Finally, as much as I hate templates, here's once you can use as a starting point for your next outreach. PLEASE modify to fit your personal style, voice, and how you communicate.
Hi (recruiter name),
I am a (job title) working with (company) and am interested in learning more about how (company) hires (titles). I have applied online to (position), and found your profile which said you hire (titles).
I'm not sure if my application has made it to your desk, but I wanted to express my interest directly. You can learn more about me here (linkedin profile, personal blog, link to resume, WHATEVER). If I am a fit for any (title) roles you're working on, I'd be happy to set up a call to discuss further. You can reach me directly at (email) or (phone).
If I may be a better fit for another (role/team/recruiter), please feel free to forward this email to the appropriate contact - I'd really appreciate it!
Thank you,
(you)
Easy peasy! Now why does this work? A few things - you've giving me CLEAR info that I can work with - you're a this, looking for a this, at my company. Cool. You recognize that I actually recruit for relevant roles, which is like 8 billion bonus points. You applied online (yay! especially for big companies - we really do fish in our own pond) and you're giving me contact info in case I want to immediately jump on the phone before you change your mind. ;) Finally, you're giving me permission to share (sooo helpful - I'm way more inclined to forward to my friends when I know you're ok w/ it) and also not applying a ton of pressure to respond. It's an open ended "hey if we fit let's chat" and not a forced "I REALLY WANT TO NETWORK WITH YOU AND ASK YOU TO SOLVE ALL MY CAREER PROBLEMS".
So there you have it. A peek into the brain of an overworked, stressed, and ultimately really wants to be helpful recruiter. Try it and let me know how it goes! Send me your results to amy@recruitinginyogapants.com - I'm opening up 30 minute coaching sessions to the first 5 job seekers who give this a try and share their feedback. Please put in the subject line "NETWORKING WITH RECRUITERS RESULTS" so I don't miss it.
Happy connecting!