Applicants, Bikinis and Instagram - OH MY!
EVERYBODY is talking about the latest kerfuffle between aspiring marketer
Emily Clow
and some salty chicks over at
Kickass Masterminds
, who have since taken down all their social real estate (THAT HASHTAG THO).
If you've been living under a rock or maybe just haven't paid much attention (someday I'll learn this) there's tons of articles, but I'm digging the write up
HERE
. Another not so flattering spin found over
THERE
. The founder (as of this writing) still had her old YouTube channel up - in
this video
she gives advice on how to lose weight, including the reason "I want to wear a bathing suit to the beach without being embarrassed". The internet citizens are NOT KIND, y'all.
SO ANYWAY - in case you're not keen on clicking away and really dying to know what I think of this situation, here ya go - young woman applies for a marketing job with kick ass company. Kick ass company tells her follow them on Instagram to be considered a top candidate or some such shit. Candidate does. Company finds candidate's insta feed full of bikini, vacay, and food photos. Absolutely horrible decision making ensues.
The company posted a cropped photo of Ms. Clow showing her in a bikini and with the caption that basically said they're not hiring a bikini model and stop putting these pictures on the internet if you want a real job. One has to wonder if the same person behind that update ever told their founder to take down the photo her herself in a tank top that said "Feisty As F*ck". Y'all know I love a good snarky t-shirt but that might be a bridge to far even for ME.
Sigh. the irony of this blowing up on #MeanGirlsDay is not lost on me.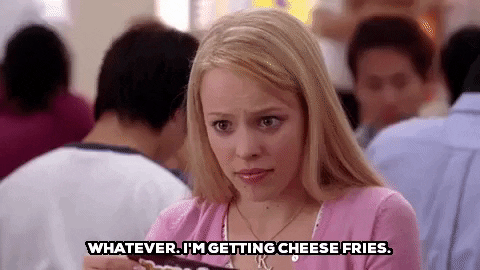 Here's the BIGGER QUESTION -
What right / expectation / understanding should exist between employers and candidates with regards to Social Media? I gotta be honest - I'm pretty dang open on social media, and I'm sure if you looked really hard, you'd find some less than flattering stuff (please Lord don't ever let me go viral). I ALSO stand by the crap I say and even when it's less than popular, well, I own my opinions. I'm not for everybody, but I sure hope my current employer doesn't tire of my shenanigans any time soon. I digress. Here's what I REALLY THINK.
As a recruiter / company representative, it's none of my damn business.
There I said it. I can already here the chorus of "
but Amy what about (insert awful thing here)
" but the reality is, my job is to vet your ability and interest. CAN you do the job. Do you WANT to do the job here. I have absolutely zero right to go looking for trouble. You being a vegetarian, a Republican, a Zoroastrian, or hot girl in a bikini has absolutely nothing to do with your ability to write solid code.
The issue is NOT that during the course of an interview process / background check unsavory information came to light. I get that can happen. I'm not even as concerned about the company searching the applicant's IG feed (ok I don't LOVE that, but again, they're hiring a marketer - I see the relevance). It was the extra intentional step to
shame a girl rocking a bikini
. Would a male applicant in a tank top or better yet, shirtless, have received the same shitty treatment? Some have defended the company, saying the job seeker should have kept it private, or that since her head was cropped out, they didn't call HER out. Oh BS. She quickly identified her photo (with captions!) and asked them to take it down. Nicely. This was a HORRIBLE decision on the company's part, and quite frankly, they should be ashamed of themselves.
So what's a job seeker to do? Look, I can't change the rules of the game for you, but I can try to help you win. Lock down your profiles (or at least sanity check what can/can't be publicly seen). If you're active in your job search, ask professional pals to take a look and give real, honest feedback on how your social footprint shows up. Take a look at the profiles of people who work for your target company. Are they fairly free-wheeling with what they share? Might be a great fit for you! Are they more reserved? Now's the time to make a decision on how hard you want to pursue a role with them.
How about my recruiting brothers and sisters? Do you really think you're the social media police and you should go LOOKING for something to be mad about? Here's my advice to YOU - if your client / employer has a specific social media policy - then YES. Give your prospects a heads up. Again - we can't change the rules of the game, but don't we owe it to our candidates to help them win? If we KNOW that companies are going to react badly to a bikini photo (still think that's dumb, but - whatever) shouldn't we clue our candidates in? I vote yes.
What say you?